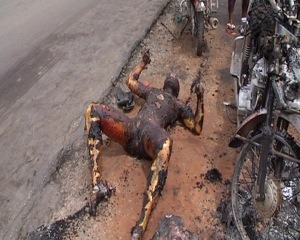 For the fourth time in two weeks, a suspected criminal
was killed in Ilorin, the Kwara State capital.The suspected female kidnapper was yesterday burnt to death.
The suspect was reportedly arrested along Pakata/Adeta road and was burnt at the popular Adeta roundabout before the arrival of thepolice.

This incident occurred despite the riot act read by the police, warning residents to stop dispensing jungle justice.
Witnesses said the suspect was found in possession of three kids suspected to have been abducted while one of them was reportedly dead.
Meanwhile, a teenager simply identified as Tunde was reportedly kidnapped at Sabo Oke area of Ilorin when he was sent on errand around 5pm on Yesterday.
Mother of the boy, who is said to be in SS1, confirmed that her son is still missing and appealed to his abductor to release him.
While the lynching incident at Adeta was taking place,a fight over girl friend ensued at Adabata/Agaka area by suspected hoodlums who engaged one another,using cutlasses and other dangerous weapons.Unspecified number of vehicles was reportedly burnt in the fracas which was later brought under control through the deployment of mobile policemen.
The incident paralysed business activities at the commercial areas with residents staying indoors and shop owners closing early for fear of attack.
Police spokesman, Mr. Okasanmi Ajayi confirmed the arrest of four in the fracas as well as some arrests at the scene of the mob action.
He said he was yet to be briefed on the missing teenager
Comments
comments